Category Archives:
Superstition
Pronunciation: nahr-sis'-uhs
Etymology: Uncertain, the name Narcissus has come to be associated with a species of daffodil. Pliny the Elder wrote that the flower is named for its fragrance. There's a connection to "narko" meaning "I grow numb" and not for mythological figure.
Alternate Spellings: Nárkissos
Narcissus hailed from Thespiae in Boeotia and was very well known for his beauty. He was so proud of his beauty that he held disdain and scorn for those who professed their love for him. This of course, attracted the attention of Nemesis, the goddess of retribution who sought to punish Narcissus for his arrogance.
Parentage
Father – Cephissus, a river god or Endymion by Nonnus in his Dionysiaca
Mother – Liriope, a nymph or Selene by by Nonnus in his Dionysiaca
There are several variations to the story of Narcissus.
For one, with Narcissus' parentage of a minor river god and nymph, Narcissus himself is a minor god. This makes it a little more likely for why other gods, albeit minor take an interest in him.
Conon's Narrations
Conon was a contemporary of Ovid. Unlike Ovid's telling of the story, in this one, there is a young man by the name of Ameinias who falls in love with Narcissus. Now, Narcissus had already spurned the love and advances of several other male suitors already. So Ameinias is just merely the latest of who's been turned down.
What makes Ameinias different from the others is that Narcissus gives him a sword. Ameinias prays to the gods, specifically Nemesis, that Narcissus would get his comeuppance and feel all the pain that he has caused others. The prayer said, Ameinias takes his own life on the steps to Narcissus' home with the sword given to him.
In answer, when Narcissus walks by a pool of water, he sees his own reflection after stopping to get a drink. Falling in love with his own reflection, Narcissus kills himself as he's unable to have what he wants, his reflection.
Or, when Narcissus realizes that he is cursed for the humiliation he inflicted on Ameinias, he kills himself. From Narcissus' blood, a flower springs up, bearing his name.
Sometimes it is the goddess Artemis who answers Ameinias' call for vengeance.
By Conon's account, Narcissus is still in the Underworld, gazing at his reflection in the waters of the Styx river.
Edith Hamilton's Mythology
One story mentioned in this volume is that Zeus had created the narcissus flower in order to help Hades with kidnapping Kore (Persephone), the daughter of Demeter down to the Underworld while she was out with friends gathering flowers and playing. When Kore went to pick the strange, new flower, that is when a chasm leading to the Underworld opened up and Hades carried her away to become his wife.
Ovid's Metamorphoses
Ovid's Metamorphoses has the version of Narcissus' story that most people are familiar with.
The son of Cephissus, the river god of the Boeotian river and the nymph Liriope, Narcissus was born in Thespiae, Boetia. Liriope was worried about the fate of her baby boy and took him to a blind seer by the name of Tiresias. The seer told Narcissus' mother that the baby would enjoy a long life so long as: "he didn't get to know himself." In some accounts, in response to this prophecy, Liriope removed all mirrors to try and prevent Narcissus from ever catching sight of his reflection.
When Narcissus reached sixteen years of age, he spurned the love and advances of all those, men and women alike, who showed any interest in him. Yes, the ancient Grecian heart-throb leaving a trail of broken hearts behind him without any second thoughts.
Narcissus is out wandering the forests one day with some friends hunting deer when Echo, a mountain nymph or Oread sees and instantly falls in love with him.
What's not told when starting off with just Narcissus' side of the story is that Echo had been cursed by Juno, Jupiter's wife after finding out that Echo was only running distraction to keep her from finding out about her husband's affairs. Angry, Juno curses Echo that she can only repeat what someone else has said.
With that context in mind, when Narcissus gets separated from his friends and calls out: "Is anyone there?" That Echo can only repeat back what he says with: "Is anyone there?"
This startled Narcissus who then asked: "Come here."
Because of the curse, Echo could only respond with the same "come here" reply.
When no one came out into the glade he was standing in, Narcissus figured that the other person must be moving away from him. So, he called out again: "This way, we must come together."
Echo, taking this to heart as confirmation for her love, called back: "We must come together!" As she came running out, ready to throw her arms around Narcissus.
On seeing the nymph running towards him, Narcissus became affronted and pushed Echo away exclaiming: "Hands off! May I die before you enjoy my body!"
Hurt, all Echo could respond with was: "Enjoy my body." Before she turned to flee back into the woods, rejected and humiliated by Narcissus. By this account, Echo wasted away, her body becoming stone until only her voice remained.
Narcissus would have his own comeuppance coming, for he continued to spurn the advances and loves of others. Including the previously mentioned Ameinias, who in his love-sickness, called out: "O may he love himself alone and fail un that great love."
Nemesis, the goddess of revenge heard Ameinias' cure and decided to respond. She cursed Narcissus, attracted him to a pool where he fell in love with his own reflection. Not realizing it was merely an image and unable to leave the beauty of his reflection, Narcissus lost his will to live. He stared at his reflection until he died.
Echo, her own love unrequited and unable to do anything, watched on as Narcissus pined away for his reflection.
It is said, that just before he died, Narcissus told his reflection: "Oh darling boy, I loved you in vain, good-bye."
Echo repeated the words: "Good-bye." As she was now completely stone and unable to do anything else.
When the nymphs came to gather up Narcissus' body for funeral, it was gone and in its place was a flower.
Nemesis – It should be noted that she is sometimes seen as an aspect of Aphrodite and not a separate entity.
Another note, Ovid connecting Echo to Narcissus' myth seems to have been his own invention. However, its now the official one.
Pausanias's Guide To Greece
In a Greek travelogue, Pausanias retells Narcissus' story in which he ends up falling in love with a twin sister, not his own reflection. When his sister died, Narcissus would go to a spring and look at his reflection, imagining that it was his own sister that he saw. Narcissus eventually dies, pinning away for the loss of his sister.
Pausanias doesn't think the story of Narcissus falling in love with is reflection and not being able to recognize it as such is unlikely.
Mirror, Mirror On The Wall….
One idea I came across says that Narcissus' story may originate in an ancient Greek superstition that it is unlucky, possibly even fatal, to see one's reflection.
Drowning
Other sources to Narcissus' story have him drowning in the pool as he tries reaching for his reflection.
Suicide
That's a bit heavy and deep to take. Ovid, Parthenius of Nicaea and Conon all have versions of Narcissus' story where he commits suicide as he's unable to what he desires, that being his reflection give love back.
Narcissus Flower
After Narcissus' death, a flower sprang up in the very place that he died. This flower of course bears Narcissus' name and is a genus of daffodil.
Narcissistic Personality Disorder
Or Narcissism. Obviously, Narcissus' story is the basis for a personality disorder in which a person is very self-absorbed, vain and everything is always about them whether that is their own physical appearance or public perception. Psychologist have studied this disorder for years.
A little bit of self-care and self-love is good. We should care about ourselves and want to do good as well as look good. When taken to the extremes and a narcissus is that self-absorbed with themselves that they don't care about others or make everything about them, then you get a problem.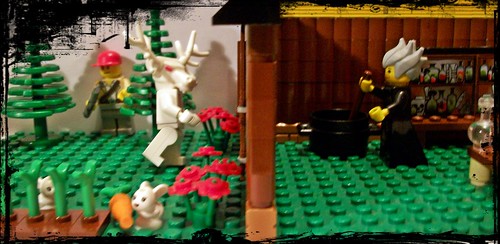 The story of "Aunty Greenleaf and the White Deer" is one that I found while looking up another article on an American Folklore site. The imagery that came to mind while reading the story caught my imagination and I set it to the side while I worked on other projects for Brickthology before coming back to it.
Now, sometime later as I began working on this post, I find that the story of "Aunty Greenleaf and the White Deer" is one of several stories from S.E. Schlosser's "Spooky New York" which is a collection of ghost stories and folklore from around New York State.
Further, is that many of the sites that mention and reference this story, merely reprint it. Only one additional mention is of Aunty Greenleaf appearing as a character in Fables' "The Wolf Among Us" game. It does leave me to question the validity of Aunty Greenleaf as an actual folkloric figure or if she can be considered a newer folkloric and literary character who first makes her appearance in 1995.
Even if Aunty Greenleaf doesn't appear before Schlosser's "Spooky New York," this is how new mythological characters find their place. Enough people who want to view the story of Aunty Greenleaf as a literary source and new piece of folklore will certainly succeed.
Basic Story
The story of Aunty Greenleaf goes as follows: she is your typical elderly woman who lived alone in a small house outside the town of Brookhaven. She was known as a witch who people avoided except for when they needed her knowledge of herbs and healing. Like many suspected and accused witches, the townspeople accused Aunty Greenleaf of being in league with the devil.
Typical accusations against Aunty Greenleaf included claims that she had hexed a farmer's pigs so that they all died after he had spoken ill of her. Another accusation involved a prominent townswoman who claimed to have dreamt of Aunty Greenleaf and the next morning, her daughter fell deathly ill. Another wild claim placed Aunty Greenleaf and her fellow witches crossing the Atlantic Ocean in an egg shell for a Sabbath in England before returning at sunrise.
This is typical of people during Colonial times in the Americas or even in Europe. Superstitions and fear when anything bad happens or a streak of misfortunes and it's easier to blame the town outcast or someone who doesn't quite fit in.
Aunty Greenleaf's story picks up and get more interesting one year during early fall when people started talking about a large, white deer that has been seen in the surrounding forest of Brookhaven. Several large hunting parties were organized by the townsfolk to hunt down this white deer. It soon became clear that this white deer was impervious to bullets and people started to believe this deer to be supernatural in nature.
It wasn't long after, that the women of Brookhaven also began having problems with churning their butter and a number of livestock sickened and died. It wasn't too difficult for the people to blame the presence of the white deer. Added to this, those people affected had had run-ins with Aunty Greenleaf at one point or another during the past month.
Finally, a hunting party was put together in earnest and the people of Brookhaven really began hunting the white deer. They had gone all day and most of the night hunting the deer before it was finally spotted. It was the largest and fastest that anyone has seen. The hunting party was hard pressed to keep up. Several people fired at the deer, but it kept on running and the hunting party soon return empty-handed.
One farmer became rather obsessed with hunting the white deer, every chance he had when he wasn't busy with his farm. It was this farmer who decided there must be some connection between the white deer and witchcraft. The farmer took some silver and melted it down to make bullets.
Ah! But aren't silver bullets only for werewolves? Yes and no. Silver is a sacred metal, connected to the moon and there is folklore silver to harming other supernatural creatures such as vampires and witches who turn into rabbits.
Anyhow, rifle in hand, the farmer went hunting the white deer. This time he succeeded in hitting the deer with one of his shots. The farmer managed to track the deer close to Aunty Greenleaf's house before it vanished in the growing darkness of night.
The next day, the farmer learned that Aunty Greenleaf was ill. From the moment she took to her bed, the local farm animals stopped dying and the families who were having trouble with their churning were back to normal. Less than a week later, Aunty Greenleaf died and the doctor who cared for her told the minister he found three silver bullets in her spine.
After the death of Aunty Greenleaf, the phantom white deer was never heard of or seen again in Brookhaven.