Category Archives:
Deer
Etymology – Horn (Old English)
Suffice to say, Herne is a well-known figure in British and Modern folklore. At first glance, it's easy to say that Herne is one of the names for the Horned God in Wicca and Modern Paganism. A slightly more knowledgeable response would say that Herne is who leads the Wild Hunt. Or perhaps that he is the ghostly specter of a Games Keeper with antlers who haunts Windsor Forest.
It does get a bit tricky on trying to get into what's concrete for the figure of Herne.
Description
Many descriptions of Herne will agree that he is human either wearing antlers or has antlers. Sometimes he is on foot others he is on horseback and may or may not be accompanied by hunting hounds or other animals of the forest.
Ghost – The version of Herne that appears in Shakespeare's play, clearly terrorizes the forest animals and people alike, blasting or withering the trees of the forest as he shakes his chains. The alternative lines say he can take on the shape of a stag. Later descriptions of Herne will have him riding a horse as part of the Wild Hunt.
The Merry Wives Of Windsor
The earliest known mention that we have of Herne is in William Shakespeare's play The Merry Wives of Windsor written in 1597.
That certainly is a case for having been around for quite a while just based off that alone.
In Act 4, Scene 4, we have the characters Mistress Page and Mistress Ford deciding that they will play a trick on Sir John Falstaff because of his unwanted advances. The two ladies convince Falstaff to disguise himself as a ghost and meet them out under an oak in Windsor Forest at midnight. The two ladies also convince and get some children to show up at the same time who are dressed up as fairies to pinch and burn Falstaff.
"There is an old tale goes, that Herne the hunter,
Sometime a keeper here in Windsor Forest,
Doth all the wintertime, at still midnight,
Walk round about an oak, with great ragg'd horns;
And there he blasts the trees, and takes the carrle,
And makes milch kine* yield blood, and shakes a chain
In a most hideous and dreadful manner."
Milch kine? Yeah, milking cows.
There is a set of alternative lines from 1602 that hint that Herne was a local ghost story used by mothers to get their children to behave.
The alternative lines are as follows:
"Oft have you heard since Horne the hunter dyed,
That women, to affright their little children,
Says that he walkes in the shape of a great stagge."
Whether the character of Herne existed before the creation of Shakespeare's play or is a creation of it, isn't clear. What is clear is that this play is for certain where the figure of Herne enters British folklore and onwards to a larger, global audience… at least the West.
Cuckold's Horns – With an Elizabethan audience, they would know that a cuckold is a name given to a husband with an unfaithful wife. A cuckold like the cuckoo bird that lays its eggs in the nests of other birds. So, a husband is likely raising a child who is not his own. The horns were likely a theatrical device of the Elizabethan stage to inform an audience of a character's role.
Herne's Oak
In Windsor's Home Park, there have been a few different oak trees since the mid-1800's that people have claimed to be either Falstaff's Oak or Herne's Oak.
The main oak that people pointed to as Herne's Oak fell in 1796 due to declining botanical health. The other oak was blown over during a windstorm on August 31st 1863. The logs from this tree were burnt in order to exorcise the ghost of Herne. One log was kept to carve a bust of Shakespeare from and is on display in the Windsor and Royal Borough Museum in the Guildhall.
Later, Queen Victoria planted another oak to replace the one that fell in 1863. Later, King Edward VII would have the tree removed in 1906 during a landscaping project. Still, another oak would be replanted to replace the fallen tree from 1796 and named Herne's Oak.
All's well that ends well.
Growing Fame
As the legend of Herne continues to grow and expand, the 20th century sees Herne's ghost now appearing shortly before national disasters and before the death of monarchs, much like a Banshee.
At the very least, because people expect to see something, more and more people claim to have encountered Herne's ghost or to have heard the sounds of hounds or a horn blowing in Windsor Forest.
Truth In The Telling
With the authenticity of Herne being lost to history and up for debate, there are enough people who believe that Shakespeare must have been using a local legend. To this end, people have been trying to add some historical veracity and authenticity to legitimize Herne's legend. If nothing else, the legend and imagery of Herne have succeeded at capturing people's imaginations for centuries and has well earned a place in folklore.
The Restless Gamekeeper – This is the next literary source, written by Samuel Ireland in 1791 in his Picturesque Views on the River Thames. In the story, Herne is to have been based on a historical figure by the name of Richard Horne, a yeoman who lived during Henry VIII's reign. Horne was accused of poaching and as a result, he hung himself from an oak tree. As this was a suicide death, Herne's spirit is believed to be barred from entering either heaven or hell and is doomed to haunt the place of their death.
Shakespearean scholar James Halliwell-Phillips found a document where Herne is listed as a hunter and confessed to poaching. Plus, early versions of The Merry Wives of Windsor spell the name as "Horne" instead of "Herne."
There are of course, a couple variants to this story.
Variation 1 – In this version, Herne is the huntsman to King Richard II. After some local men grew jealous of Herne's status, they conspired to accuse him of poaching on the King's land. Falsely accused and outcast, Herne hung himself from an oak tree.
Variation 2 – In this story, Herne saves King Richard II from a stag. Fatally wounded, Herne is healed by a magician who takes Herne's skills in forestry and hunting as payment. Part of this being cured involved having the dead stag's horns tied to Herne's head. Distraught by the loss of his skills, Herne hung himself from a tree. As a result, his spirit is doomed each night to lead a spectral hunt through Windsor Rest.
Windsor Castle – Written by William Harrison Ainsworth in 1842. This novel aims to be a historical drama set during the reign of the Tudors and follows Henry VIII's pursuit of Anne Boleyn. Herne features throughout the novel as a ghostly figure haunting the nearby woods of Windsor. This version of Herne is somewhat sinister as Harrison Ainsworth created a history where Herne was gored by a stag. Herne makes a deal with the Devil to spare him. Part of the deal is that Herne would forever wear antlers. This version of Herne had served Richard II and likely the source of the two previous folkloric versions of where he originates from.
The Wild Hunt
The Wild Hunt is a phenomenon found in many different European countries and cultures. It is a nightmarish, supernatural force led by some dark spectral hunter on horseback and accompanied by a host of other riders and hounds as they chase down unlucky mortals, either until they drop dead of exhaustion, are caught and forced to join the Wild Hunt or able to evade the Hunt until dawn.
Just exactly who it is that leads the Hunt does vary country by country in Europe. The Wild Hunt is known for making its ride during the Winter Solstice or New Year's Eve. Jacob Grimm of Grimms Brothers fame makes a connection of Herne to the Wild Hunt due to the epitaph of "the Hunter." That does seem to work, a Huntsman, connect him to the Wild Hunt and for Britain, the idea really jells of a local person who becomes a lost soul, doomed to forever ride with the Hunt.
Of course, the point is brought up that as a ghost, Herne is connected to one locality whereas the Wild Hunt wanders, moving from one place to another, seemingly randomly.
Ultimately, just who leads the Wild Hunt will vary from country to country. In Welsh mythology, it is Gwyn ap Nudd or Annwn who lead the hunt with a pack of spectral hounds to collect unlucky souls. The Anglo-Saxons of Britain hold that it is Woden who leads the hunt at midwinter. Wotan is very similar to Odin (just another name for the same deity really), Herne has been linked to them as both have been hung from a tree.
Pagan Deity
With Wicca and many modern pagan religions, Herne is frequently identified with the Horned God. As a Horned God, Herne is seen as a god of the Hunt, the sacred masculine, animals, nature, crossroads, sacrifice, fertility, virility, forests, hunters, and warriors.
Close on the heels of a horned deity, Herne has been connected to the Celtic deity of Cernunnos. Most notably, Margaret Murray made this connection in her 1931 book, "God of the Witches." She sees Herne as a manifestation of Cernunnos and a very localized god found only in Berkshire. Take that as you will, for as much as Margaret Murray is hailed as the Grandmother of Wicca, many of her ideas and theories have been discredited and contested or challenged as they often appealed to emotional desires didn't fulfill proper scrutiny and criteria for research. She is still very important in getting the ball rolling for those who follow Wicca and Paganism.
Archeological Discoveries – Of note is that a headpiece made from the top part of a stag's skull with antlers still attached was found in Britain at Star Carr near Scarborough. This headpiece is thought to date back to around 8500 B.C.E., dating it to the Mesolithic era. The headdress is thought to have served shamanic rituals to ensure a successful hunt.
Cernunnos – Gaul
It's not just Margaret Murry who sees Herne as being very similar to or an aspect of Cernunnos, it is also R. Lowe Thompson in his 1929 book "The History of the Devil – The Horned God of the West" who makes the connection.
Thompson makes the connection of Herne to other Wild Huntsmen, looking for a connection of all of these horned deities being really the same being or aspects of each other. He goes on how Herne and Cernunnos are the same, just as the English word "horn" is a cognate of the Latin word "cornu."
So… "cerne" and "herne." It's enough for many Wiccans and Pagans to accept Herne as an aspect of Cernunnos just on the fact that both have horns or antlers.
Depending on the source and who you ask, Herne hunts and destroys nature and wildlife where Cernunnos seeks to protect it.
Pan – Greek
While we're at it, the Grecian rustic gods of the wild, Pan is also seen as a syno-deity who can be equated with Herne and other Horned Gods.
Woden – Anglo-Saxon
Also spelled Wotan.
Because so many have tried to make connections, I already touched on this above with the Wild Hunt, Herne as been connected to Wodan as well. Both Herne and Wodan hung from a tree. Herne out of shame and suicide and Wodan as he was seeking knowledge of the runes. Herne is also bandied about as being derived from one of Wodan's titles, Herian ("Warrior-Leader"), a titled used when leading his fallen warriors, the Einherjar.
The Play's The Thing!
Even if the origins of Herne are rooted in a Shakespearean play solely as a creation of the great bard himself. People assume that Shakespeare must have drawn on some unverifiable local myths and folklore.
While we can argue and aren't completely sure, Herne has more than earned a place in folklore. Afterall, Herne continues to inspire and find his way into literature and modern media.
There are numerous books and T.V. series where Herne has a part or features and continues to be a character people readily draw inspiration from.
Such as a British show, Robin of Sherwood where Herne is a pagan priest and spirit of the woods. Books such as Susan Cooper's The Dark Is Rising and Terry Pratchett's Discworld series.
Also Known As: Deer Lady, Deer-Woman, Deerwoman
The Deer Woman is a familiar figure in many Native American legends and mythology of Oklahoma, Western United States and Pacific Northwest. Notable tribes are the Creek, Lakota, Omaha, Ponca and Potawatomi.
Deer Woman is a shape-shifting spirit who often takes the form of a young woman except that her feet are hooved like those of a deer and her brown deer eyes. Sometimes, Deer Woman is described as having the upper half of a human women and the lower half of a deer. As a shape-shifter, Deer Woman can also appear as an old woman or a deer.
In the legends surrounding Deer Woman, she is often just off the trail or behind a bush, calling men over to her, particularly unfaithful or promiscuous men. It is frequently too late, when men are enchanted and drawn to her, that they notice she isn't all that she seems and find themselves trampled to death beneath her hooves. A more "luckier" man might find himself pining away, longing for a "lost love." In the more malign interpretations of Deer Woman, she is often presented as a bogeyman, seducing men before she kills them.
More violent versions of Deer Woman's story say she was a human woman transformed into a deer after being raped or she was brought back to life by the original Deer Woman spirit after being murdered. Further stories say it is the still the original Deer Woman, she has just changed her cause and is even more vengeful.
She is sometimes seen as a form of succubus or vampire, draining her victims of their life force. The Deer Woman legends certainly do seem to hold a certain familiarity to the Irish stories of the Fae, who have sex with a mortal man and who is then never satisfied with a human lover.
In the Lakota versions of Deer Woman, she doesn't kill men, instead she takes their soul so that he will be lost for the rest of his life. As to the women, Deer Woman spirits them away so that they are never seen again. In these, stories, Deer Woman is described as a black-tailed deer.
Other stories surrounding Deer Woman, describe seeing her as sign of warning or a time of personal transformation. She is very fond of dancing and has been known to join in on communal dances; leaving when the drumming stops. More benign interpretations of Deer Woman's myth connect her to fertility and love who help women during childbirth.
Reservation Dogs
In this t.v. series featuring life on the Reservation for several young Native Americans, Deer Woman is mentioned in passing by Officer Big. The fifth episode features Deer Woman as Officer Big tells his origin and back story of why he choose to become an officer.
Banishing Deer Woman
According to Ojibwe traditions, Deer Woman can be banished by the use of tobacco smoke, prayers and chanting.
Deer Woman's spell or enchantment can also be broken by looking at her feet. Once Deer Woman realizes she has been found out, she runs away.
Similar Folkloric Figures
There are a few other, similar figures found in other cultures from around the world.
Baobhan Sith – Scotland, a female vampire said to have goat legs. She seduces travelers and drinks their blood.
Fiura – Chile, a goblin seductress who drives her victims insane.
Iara – Brazil, a siren-like entity who leads men to their death. Descriptions place her as being a fish woman with a blow hole in her neck.
La Llorna – Hailing from Mexico and the Southwestern United States. Descriptions often cite her as having no feet.
La Patasola – Colombia, a siren-like entity, leading men to their death. Descriptions often cite her as having deformed feet.
Naag Kanyas – India, serpent women. In some areas of Northern India, there are stories of people who are surprised to discover that a woman traveling with them, has cow hooves instead of human feet. A slight version to this is the woman's feet being on backwards. These were clearly signs that the woman traveling with them isn't human.
Sirens – Greek & Rome, Aquatic females, infamous for luring men to leap from their ships to a watery death by their hypnotic songs.
Tunda – Colombia, a siren-like entity, leading men to their death. Descriptions often cite her as having deformed feet.
Xana – From Asutrias, Spain, a siren-like entity who leads men to their death.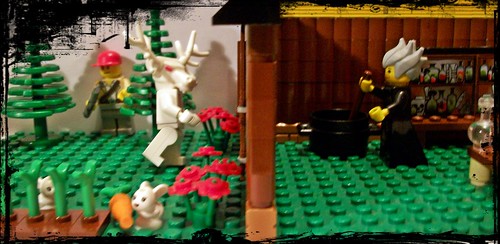 The story of "Aunty Greenleaf and the White Deer" is one that I found while looking up another article on an American Folklore site. The imagery that came to mind while reading the story caught my imagination and I set it to the side while I worked on other projects for Brickthology before coming back to it.
Now, sometime later as I began working on this post, I find that the story of "Aunty Greenleaf and the White Deer" is one of several stories from S.E. Schlosser's "Spooky New York" which is a collection of ghost stories and folklore from around New York State.
Further, is that many of the sites that mention and reference this story, merely reprint it. Only one additional mention is of Aunty Greenleaf appearing as a character in Fables' "The Wolf Among Us" game. It does leave me to question the validity of Aunty Greenleaf as an actual folkloric figure or if she can be considered a newer folkloric and literary character who first makes her appearance in 1995.
Even if Aunty Greenleaf doesn't appear before Schlosser's "Spooky New York," this is how new mythological characters find their place. Enough people who want to view the story of Aunty Greenleaf as a literary source and new piece of folklore will certainly succeed.
Basic Story
The story of Aunty Greenleaf goes as follows: she is your typical elderly woman who lived alone in a small house outside the town of Brookhaven. She was known as a witch who people avoided except for when they needed her knowledge of herbs and healing. Like many suspected and accused witches, the townspeople accused Aunty Greenleaf of being in league with the devil.
Typical accusations against Aunty Greenleaf included claims that she had hexed a farmer's pigs so that they all died after he had spoken ill of her. Another accusation involved a prominent townswoman who claimed to have dreamt of Aunty Greenleaf and the next morning, her daughter fell deathly ill. Another wild claim placed Aunty Greenleaf and her fellow witches crossing the Atlantic Ocean in an egg shell for a Sabbath in England before returning at sunrise.
This is typical of people during Colonial times in the Americas or even in Europe. Superstitions and fear when anything bad happens or a streak of misfortunes and it's easier to blame the town outcast or someone who doesn't quite fit in.
Aunty Greenleaf's story picks up and get more interesting one year during early fall when people started talking about a large, white deer that has been seen in the surrounding forest of Brookhaven. Several large hunting parties were organized by the townsfolk to hunt down this white deer. It soon became clear that this white deer was impervious to bullets and people started to believe this deer to be supernatural in nature.
It wasn't long after, that the women of Brookhaven also began having problems with churning their butter and a number of livestock sickened and died. It wasn't too difficult for the people to blame the presence of the white deer. Added to this, those people affected had had run-ins with Aunty Greenleaf at one point or another during the past month.
Finally, a hunting party was put together in earnest and the people of Brookhaven really began hunting the white deer. They had gone all day and most of the night hunting the deer before it was finally spotted. It was the largest and fastest that anyone has seen. The hunting party was hard pressed to keep up. Several people fired at the deer, but it kept on running and the hunting party soon return empty-handed.
One farmer became rather obsessed with hunting the white deer, every chance he had when he wasn't busy with his farm. It was this farmer who decided there must be some connection between the white deer and witchcraft. The farmer took some silver and melted it down to make bullets.
Ah! But aren't silver bullets only for werewolves? Yes and no. Silver is a sacred metal, connected to the moon and there is folklore silver to harming other supernatural creatures such as vampires and witches who turn into rabbits.
Anyhow, rifle in hand, the farmer went hunting the white deer. This time he succeeded in hitting the deer with one of his shots. The farmer managed to track the deer close to Aunty Greenleaf's house before it vanished in the growing darkness of night.
The next day, the farmer learned that Aunty Greenleaf was ill. From the moment she took to her bed, the local farm animals stopped dying and the families who were having trouble with their churning were back to normal. Less than a week later, Aunty Greenleaf died and the doctor who cared for her told the minister he found three silver bullets in her spine.
After the death of Aunty Greenleaf, the phantom white deer was never heard of or seen again in Brookhaven.