Aunty Greenleaf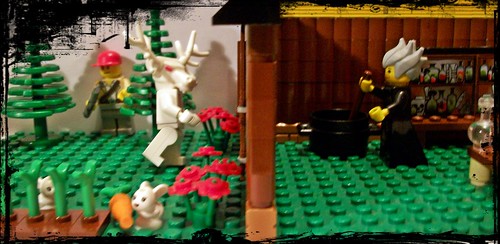 The story of "Aunty Greenleaf and the White Deer" is one that I found while looking up another article on an American Folklore site. The imagery that came to mind while reading the story caught my imagination and I set it to the side while I worked on other projects for Brickthology before coming back to it.
Now, sometime later as I began working on this post, I find that the story of "Aunty Greenleaf and the White Deer" is one of several stories from S.E. Schlosser's "Spooky New York" which is a collection of ghost stories and folklore from around New York State.
Further, is that many of the sites that mention and reference this story, merely reprint it. Only one additional mention is of Aunty Greenleaf appearing as a character in Fables' "The Wolf Among Us" game. It does leave me to question the validity of Aunty Greenleaf as an actual folkloric figure or if she can be considered a newer folkloric and literary character who first makes her appearance in 1995.
Even if Aunty Greenleaf doesn't appear before Schlosser's "Spooky New York," this is how new mythological characters find their place. Enough people who want to view the story of Aunty Greenleaf as a literary source and new piece of folklore will certainly succeed.
Basic Story
The story of Aunty Greenleaf goes as follows: she is your typical elderly woman who lived alone in a small house outside the town of Brookhaven. She was known as a witch who people avoided except for when they needed her knowledge of herbs and healing. Like many suspected and accused witches, the townspeople accused Aunty Greenleaf of being in league with the devil.
Typical accusations against Aunty Greenleaf included claims that she had hexed a farmer's pigs so that they all died after he had spoken ill of her. Another accusation involved a prominent townswoman who claimed to have dreamt of Aunty Greenleaf and the next morning, her daughter fell deathly ill. Another wild claim placed Aunty Greenleaf and her fellow witches crossing the Atlantic Ocean in an egg shell for a Sabbath in England before returning at sunrise.
This is typical of people during Colonial times in the Americas or even in Europe. Superstitions and fear when anything bad happens or a streak of misfortunes and it's easier to blame the town outcast or someone who doesn't quite fit in.
Aunty Greenleaf's story picks up and get more interesting one year during early fall when people started talking about a large, white deer that has been seen in the surrounding forest of Brookhaven. Several large hunting parties were organized by the townsfolk to hunt down this white deer. It soon became clear that this white deer was impervious to bullets and people started to believe this deer to be supernatural in nature.
It wasn't long after, that the women of Brookhaven also began having problems with churning their butter and a number of livestock sickened and died. It wasn't too difficult for the people to blame the presence of the white deer. Added to this, those people affected had had run-ins with Aunty Greenleaf at one point or another during the past month.
Finally, a hunting party was put together in earnest and the people of Brookhaven really began hunting the white deer. They had gone all day and most of the night hunting the deer before it was finally spotted. It was the largest and fastest that anyone has seen. The hunting party was hard pressed to keep up. Several people fired at the deer, but it kept on running and the hunting party soon return empty-handed.
One farmer became rather obsessed with hunting the white deer, every chance he had when he wasn't busy with his farm. It was this farmer who decided there must be some connection between the white deer and witchcraft. The farmer took some silver and melted it down to make bullets.
Ah! But aren't silver bullets only for werewolves? Yes and no. Silver is a sacred metal, connected to the moon and there is folklore silver to harming other supernatural creatures such as vampires and witches who turn into rabbits.
Anyhow, rifle in hand, the farmer went hunting the white deer. This time he succeeded in hitting the deer with one of his shots. The farmer managed to track the deer close to Aunty Greenleaf's house before it vanished in the growing darkness of night.
The next day, the farmer learned that Aunty Greenleaf was ill. From the moment she took to her bed, the local farm animals stopped dying and the families who were having trouble with their churning were back to normal. Less than a week later, Aunty Greenleaf died and the doctor who cared for her told the minister he found three silver bullets in her spine.
After the death of Aunty Greenleaf, the phantom white deer was never heard of or seen again in Brookhaven.
Posted on February 25, 2015, in American, Death, Deer, Demon, Folk Lore, Healing, Hunter, Outcast, Pagan, Shape-Shifter, Silver, Spirit, Supernatural, Superstition, Witch, Witchcraft. Bookmark the permalink. Leave a comment.